Accelerate Your Scleral Lens Fitting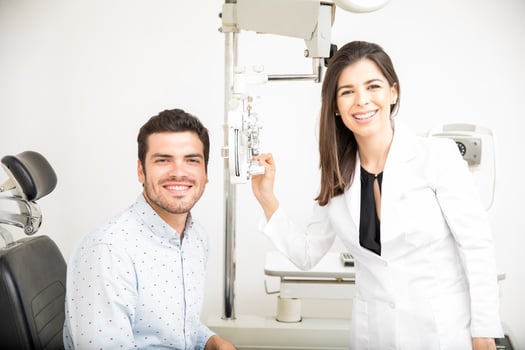 Get trained for scleral lens success!
CooperVision® Specialty offers a variety of scleral lens training workshops across North America, arming eye care professionals with the skills and confidence to change patients lives with industry-leading lens designs. Options include dual-track scleral lens training, dinner workshops, in-office wet labs and virtual training on your schedule!
Click here
to jump down to view training options and to register for the training that best suits you!
All training featured below is available to eye care professionals located in the US and Canada. If you are located outside of the US or Canada, please email btlworkshops@coopervisionsec.com and we will put you in touch with the distributor in your respective country who can advise as to what training opportunities they have available.
Three Ways to Receive Training
Scleral Strides
This two-part training program consists of a 3-hour dinner workshop presented by peer faculty, followed by a separate day of in-office staff training* with live patient fittings led by a CooperVision expert consultant. Lunch will be provided to staff for the in-office portion and practice management marketing materials will be supplied to the office.
*Fitter/practice must commit to full program – these training elements are not offered separately.
In-office staff training to take place no more than 30 days post-dinner workshop. Fitter/practice is committed to scheduling two-to-three scleral fittings for a single day, to be coordinated with your CooperVision Account Executive.
Dual-Track Workshops
The dual-track training workshop is a robust, in-person, full day (6-hour) format consisting of the following tracks, running concurrently:
Scleral Accelerator helps fitters accelerate their scleral lens fitting skills and confidence, to enhance proficiency. Course includes advanced design options, troubleshooting, practice management, and guidance on when to consider another modality.
Scleral Basics is an introductory program that provides opticians, technicians, or new scleral fitters with a foundational understanding of scleral lenses. Includes hands-on application & removal training, practice workflow, and much more.
Virtual Training
CooperVision Specialty provides personalized virtual or on-demand training for all skill levels - on your schedule!
Optimize Your Practice & Profits
The Onefit™ family of scleral lenses can help you maximize chair time, with increased profits and highly rewarding patient outcomes. With the CooperVision Specialty Lens Bank program, you can reduce per lens costs and improve your profit margins by consolidating the purchases of not only Blanchard's Onefit scleral lenses, but also Blanchard's GP lens, as well as Paragon CRT® Ortho-K lenses.
Once registered to attend a workshop, a dedicated Account Executive will reach out to review these special offers with you.
Don't see what you're looking for, or simply have questions? Use the form below and let us know how we can help you, including requesting that your city/area be considered as a location for a Scleral Strides or Dual-Track Workshop. A CooperVision Specialty Account Representative will be in touch with you.